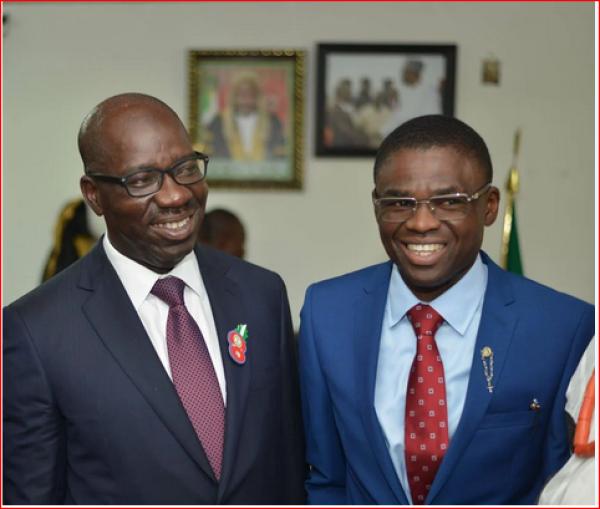 My deputy, Shaibu plotting 'coup' to unseat me, Obaseki alleges
By: Abara Blessing Oluchi
Sat, 12 Aug 2023 || Nigeria,
The crisis rocking the Edo State Government House has worsened as Governor Godwin Obaseki alleged that his deputy, Philip Shaibu, in his desperation to succeed him in office, is plotting a "coup" to unseat him.
Obaseki explained that Shaibu showed his hands during the selection of the leadership of the Edo State House of Assembly, accusing him of working with the opposition party to take control of the assembly.
The governor made the claims during a meeting with Etsako leaders in Jattu, Etsako West Local Government Area of the state on Friday, lamenting the reoccurring crisis within the ruling Peoples Democratic Party (PDP) in Edo State.
"What struck me, and I have never said this to anybody, is that after I proclaimed the House of Assembly, we were now going to elect officers. He was in Abuja, he came back that day.
"My deputy called the leader in APC, telling that leader that during the elections on the next day, particularly the speaker of the house of assembly, he has five members who are loyal to him and that he would like the seven members of APC to work with his five members of PDP to produce the next speaker.
"At that point, I called the PDP members to my house just to familiarize myself with them and he tried to barge in, and I said you can't just come to my house. You have to have the courtesy but now it is my prerogative whether to allow you to come in or not.
"After I heard what he had done, I said 'You can't come into our meeting'. As far as I am concerned, that was not working in our common interest.
"Why would the deputy governor seek to have another speakership candidate outside of what the governor wants? Are we working together?
"That is where I now knew that we had a problem. The deputy governor has become so desperate to take over that he would do anything, including carrying out a coup, against his governor.
"How can you say you are loyal and you will do that sort of a thing?"
Earlier, Channels Television reported that Shaibu had approached the court, seeking to stop an alleged move by the governor to impeach him over their irreconcilable differences.
Justice Ahmed Mohammed of the Federal High Court, Abuja, has since granted a temporary order while ruling in a motion on notice filed by Shaibu praying to the court to stop the move to ease him out of office by his principal.
In the ruling, Justice Mohammed directed the parties in the suit to maintain the status quo.
Back to News