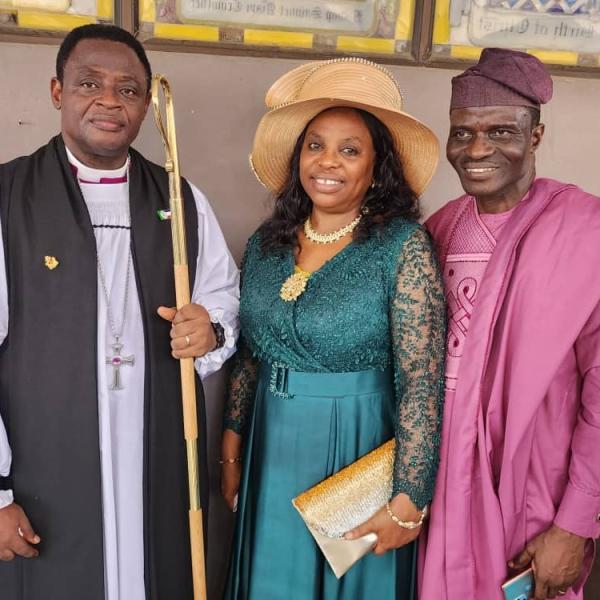 Rt Rev Collins Olufemi Babalola Consecrated Bishop of Ajayi Crowther Dioceses
By: News Editor
Mon, 28 Aug 2023 || Nigeria,
Ikeja, the capital city of the economic hob of Africa, was a center of attraction as the dignitaries, academia, captains of industries and clergies gathered for the consecration of Rt Rev Collins Olufemi Babalola as Bishop of Ajayi Crowther Dioceses.
The ceremonial which was conducted by the Primate of the Church of Nigeria, Most Rev'd Henry C. Nduka took place on Sunday, August 27th, 2023. at the popular Archbishop Vinning Memorial Anglican Church, GRA, Ikeja, Lagos. The event had in attendance friends, families, and colleagues of the Bishops.
The consecration ceremonial which took place amidst pomp's and charms, also had four Bishops-elect, presentation of two Archbishops and the Dean of the Church of Nigeria.
The preacher Rev'd Dr Joseph Akinfenwa, Bishop of Ibadan, in his sermon admonished the Bishops' elect to see their consecration as a wake up call to the demands of their new office. He charged them not to be distracted, but to focus on the growth of the gospel in Nigeria; and address the prevalent corruption across the Nation.
He stressed the need for prayers as they are coming into office at a time Nigeria is facing series of challenges.
The Preacher empathized that the time has come for us to intensify our fasting and prayers for the nation, as there could be no other time; hence, we speak life and light into the fabric of the Nigerian society.
Akinfenwa encouraged them to travel the road with Jesus.Cast their burden upon Jesus, prioritize soul winning , mission, and evangelism.
Bishop Akinfenwa spoke of the inevitable day when all shall come before the Master, and render account of stewardship on earth.
He therefore urged everyone to use this time well to his glory and service in their new office.
In an exclusive interview with CEOAFICA,the Bishop Babalola said he felt privileged, great, excited, and favoured as he is now at the peak of his role. 'When one reaches that level, you have no more life to be thinking of; it's like you are actually being led to the slaughter.
I have no choice but to redouble my efforts for the propagation of the gospel and the advancement of God's kingdom on earth, as stated in the sermon. And that is what I have lived for."
He advised other ministers to continue to do whatever they are doing for God with devotion, diligence, and discipline. 'There is nothing as good as God noticing one's effort and giving him a greater responsibility if He finds him faithful," he stated.
The new Bishop of Ajayi Crowther Dioceses further encouraged ministers to be faithful in whatever they are doing and trust God for greater opportunities of service.
Speaking with CEOAFRICA Prof Chinedum Peace Babalola who is now the head of the women's ministry in the entire diocese said she has presented the entire burden to God, so she will depend on Him to assist, help, and direct her. She advised young ladies who are still climbing the ladder to trust in God because with Him, all things are possible.
Other Bishops elect are Ven Festus Uzorka Nwafili of Diocese of Ndorka, Ven Ifedola Senasu Okupevi of Lagos Diocese, and Ven Ebenezer O. Saiki of Diocese of Akoko - Edo.
While Most Rev'd Dr Timothy Yahaya , and Most Rev'd Dr Michael O. Fape were elected the Archbishop of Province of Kaduna and Archbishop of Province of Lagos respectively.
Most Rev'd Blessing C.Enyindah was presented as the Dean elect.
Other dignitaries at the event are the Governor of Lagos State Babajide Sanwo-Olu, represented by his wife, Dr Mrs Ibijoke Sanwo-Olu; former governor of Ogun State, Otunba Gbenga Daniel; former deputy governor of Lagos state , Mrs Adejoke Orelope -Adefulire and her husband, Chancellor of Chrisland University, High Chief Dr Mrs Winifred Awosika, MD Chrisland Schools, Mrs Ibironke Adeyemi, BOT members, Mrs Anike Oye ,and Barrister Bankole Awosika and his wife, Management and staff of Chrisland University ably led by the Registrar, Mr Samuel Omotoso,and many others.
Bishop Collins Olufemi Babalola is the Husband of Prof
Chinedum Peace Babalola (née Anyabuike) FAS, FAAS; a Nigerian Professor of Pharmaceutical chemistry and Pharmacokinetics. She is the first female Professor of Pharmacy in the University of Ibadan, an AU laureate and the current Vice Chancellor of Chrisland University, Abeokuta,
Back to News