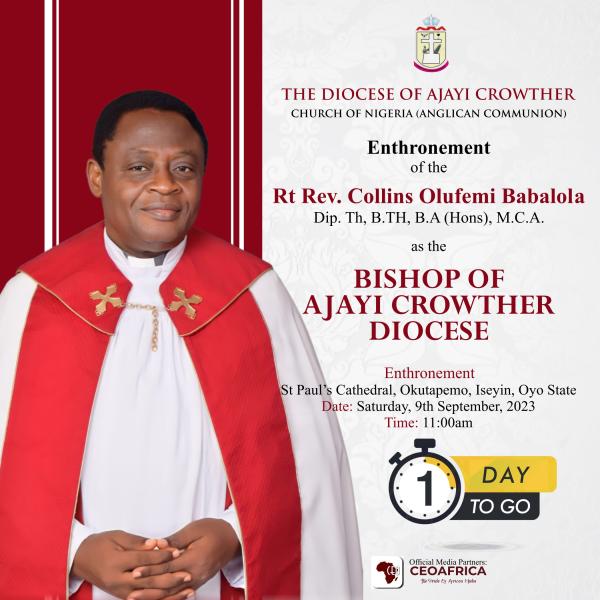 Enthronement of Rt Rev Collins Babalola as Bishop of Ajayi Crowther is 1 day to go
By: Abara Blessing Oluchi
Fri, 8 Sep 2023 || Nigeria,
The enthronement of Rt Rev Collins Olufemi Babalola as the Bishop of Ajayi Crowther is tomorrow.
The enthronement service which is holding on Saturday, 9th September, 2023, at Saint Paul's Cathedral, Okutapemo, Iseyin, Oyo State.
The time is 11:00am.
Rt Rev Collins Babalola was consecrated as Bishop of Ajayi Crowther Dioceses on Sunday, August 27th, 2023 by the Primate of the Church of Nigeria, Most Rev'd Henry C. Nduka, the ceremonial took place at the popular Archbishop Vinning Memorial Anglican Church, GRA, Ikeja, Lagos.
The event had in attendance friends, families, and colleagues of the Bishop Babalola.
The consecration ceremonial took place amidst pomp's and charms, also had four Bishops-consecrated, presentation of two Archbishops and the Dean of the Church of Nigeria.
Bishop Collins Olufemi Babalola is the Husband of Prof Chinedum Peace Babalola (née Anyabuike) FAS, FAAS; a Nigerian Professor of Pharmaceutical chemistry and Pharmacokinetics. She is the first female Professor of Pharmacy in the University of Ibadan, an AU laureate and the current Vice Chancellor of Chrisland University, Abeokuta.
Back to News