Nigeria :: News
A Day with People Living with Disabilities: Bomarah Foundation gives palliatives to cushion the effect of COVID 19 pandemic (Photos)
Oct 15, 2020
By: Abara Bleesing Oluchi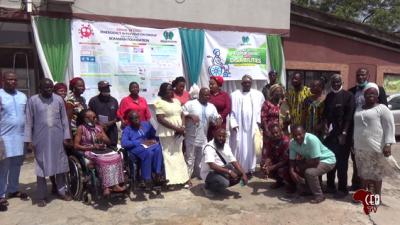 LAGOS
Bomarah Foundation, a non-governmental organization that aims at eradicating poverty from people living with disabilities on Monday, 12 October held an enlightenment programme, tagged "A Day with People Living with Disabilities".
The CEO, Hajia Bola Muse said that the foundation has been in the business of caring for the needy since the year 2002 in order to create opportunities for persons living with disabilities so they can make the best use of their lives.
The Guest Speaker who doubles as the Chairman of the occasion, Hon. Elijah Owolabi Adele, Chairman of Apapa Local Government Area, while speaking on the theme of the day, tagged: "Challenges of COVID 19 on People Living with Disabilities", stated that people living with disabilities are more challenged with a low rate of survival during the pandemic, hence they should not be neglected He commended the CEO and encouraged others who have the financial capability to do same.
Palliatives of cash and foodstuffs were given to various clusters of those living with disabilities, they include the Association of the Deaf and Dumb, the Association of the Blind, the Spinal Cord Injury Association, the Association of Dwarfs, the Albinism Foundation, the Association of those with Special Needs, the Association of those Living with Leprosy, the Association of the Intellectual Disabled and the Association of the Physically Challenge.
Other personalities who graced the event include the Chairperson of the Women in Logistics and Transport (*WILAT), Mrs Fola George, Mr Soji Amusan Project Manager New Village of Oodua Farm Limited, Senior Staff of the Local Government Council amongst other invitees.
See photos below:
Headlines (Nigeria):
Read our other news items below...