Nigeria :: News
Twitter users blow hot over army's indictment of Sanwo-Olu
Oct 28, 2020
By: Abara Bleesing Oluchi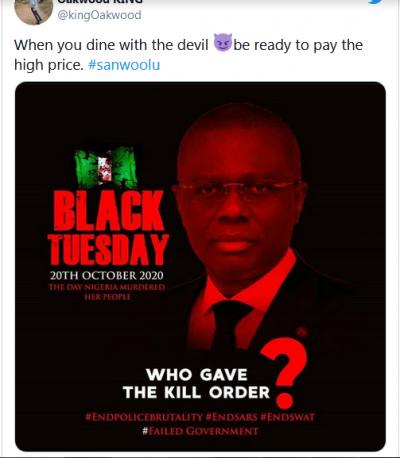 LAGOS
Lagos State Governor, Babajide Sanwo-Olu has gotten lambasted by Nigerians on twitter after the Nigerian Army said on Tuesday that soldiers were brought out on invitation of the Lagos State Government to maintain law and order during the curfew.
The angry Nigerians have questioned the governor as to who invited the military, which led to shooting at #EndSARS protesters at the Lekki Tollgate last week Tuesday.
The 81 Division of the Nigerian Army on Tuesday said the decision to call in the army was taken by the Lagos State Government after it declared a curfew last Tuesday. They, however, denied shooting at the protesters.
Sanwo-Olu, however, had said previously said that no sitting governor controls the rules of engagement of the army, hence, his government was not responsible for mobilizing the war veterans to the Lekki #EndSARS protest ground.
The tussle has led Nigerians to call out the state governor on Twitter over the drama between his government and the Army.
Read tweets below:
Headlines (Nigeria):
Read our other news items below...