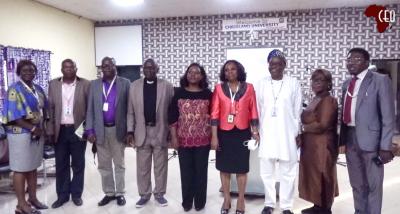 Chrisland University plans to partner with UN WFP
By:
Fri, 30 Apr 2021 || Nigeria,
The Vice-Chancellor of Chrisland University, Prof. Chinedum Peace Babalola, has revealed the plan of the learning institution to partner with the United Nations (UN) World Food Programme (WFP) which will be for the benefit of the staff, students and the University community.
Prof. Babalola made this known on Wednesday while hosting the Deputy Director of the United Nations (UN) World Food Program (WFP), Mrs. Adeyinka Badejo-Sanogo, at a symposium organized by the University management.
In her remark, the VC urged the students to make use of the symposium to reach out to Badejo in order to share solutions and innovative ideas they can use to contribute to the UN WFP Zero hunger 2030 goal.
"Ensure you make use of this opportunity. You can reach out to Mrs. Badejo with solutions, ways you can contribute to this movement. My desire is to see how this lecture would affect what you do. You can form a group of two or four and start a foundation as a student. You should begin to; design things; formulate things; think about solving problems; think about your own solution," she stated.
Babalola, during an exclusive interview with CEOAFRICA, disclosed that in Chrisland University, every Wednesday is devoted to the University assembly, where staff and students meet and listen to life building talks and/or carry out life building activities.
She explained that the activities are in line with the University's vision and mission, which aim at adding value to and promoting leadership, innovation and creativity of the members of staff and the students of the institution. 
"This period is devoted for life building skills, so we either have in-house activities or we bring in people from outside to either mentor or teach the students," she stated.
Speaking on ensuring food abundance in the country, the African Union Laureate noted that the problem of insecurity has to be addressed before Nigeria can boast of food security.
She added that the menace of insecurity has caused many of the farmers to stop faming due to fear of being kidnapped or killed on their farm.
"Cutting off the food basket has created hunger, so the government should ensure there is security, let people be rehabilitated, let them go back to their farm lands, let there be peace in the land; let them check those that are causing insecurity; who are preventing people from farming. I think those kind of people should be dealt with, rather than dealing with the masses directly or indirectly.
"The government should ensure that people are free to farm, people are free to live in their communities and it is their duty to do so. And I think we are beginning to demand that right now. That is one way we can reduce hunger, the other way is for all of us to farm. Everybody should be a farmer, everybody should grow their food; we are blessed with good climate condition, so let us grow our food for ourselves and for others who does not have," Babalola maintained.
The erudite Professor charged Nigerians to keep being optimistic and working towards the 2030 Zero Hunger goal, even amidst the insecurity challenges.
She stressed that if the Zero hunger goal is not achieved in 2030, the world should at least have a reduced number of malnourished people.
"If it is not possible to actualize the zero hunger goal by 2030 due to the insecurity that keeps growing, the only thing we can do is not to lose hope, is not to fold our hands, but rather to keep working at it, to keep seeing how we can bring peace, to keep seeing how farmers can be helped to produce more.
"Now, there is soilless means of growing food, we can use research, innovation and technology to improve food production.
"We should just keep working at it; we should not fold our hands. The number of malnourished people in the world should reduce, instead of it going up. We need to hear in the next two years that it has reduced to 500 thousand, and in the next two-three years that it has reduced to 200 thousand this will be so wonderful," the VC stated.
The Deputy Director, during her lecture on the topic: "The Link between Hunger and Conflict", disclosed that she came to raise awareness about the hunger problem that is in the world and how the students, staff and the University community can be part of the solution.
She noted that to be part of the solution to world hunger, one has to be aware that hunger does exist everywhere.  
"We need to wake up, that is why I am here today. I want to raise awareness. I want you to be aware that there is hunger in our country. There is hunger in our community, there is hunger in our neighbourhood, and there is hunger in the world.
"To be part of the solution, the first thing to do is to be aware of the fact that there is hunger problem, then raise awareness amongst your community," Badejo averred.   
The UN WFP deputy Director further explained that "Some of the causes of hunger is climate change, draught and flood.
"Scientist can find a way to produce foods that will not be affected by draught or flood. I know today that there are draught resistant seeds, that wherever you plant them, even if there is no water, even if there is very little water, you are not going to have a situation where the harvest is completely lost."
She charged the young scientists to innovate, think about societies' problems and how they can find solutions, adding that, that is one way to be part of UN Zero Hunger 2030 mandate.
She further noted that huge food wastage is another reason for lot of hunger in the world.  
The Deputy Director in her lecture mentioned that Nigeria is one of the countries in the world with citizens who are undernourished.
"On the global scheme of things, there is a hunger crises in the North-East of Nigeria.
"Nigeria is a country with a big population of more than 200 Million people in Nigeria, when you look at the World Food Programme food security analysis, it's estimated that about 10 Million people are hungry, are and need food assistant, meaning that they are undernourished. When you compare this number of 9 to 10Million with the whole population of Nigeria, then you can see that it is perhaps not a big problem but there are hungry people in our country." She stated.
Present at the event are student, staff and members of the University community.
Back to News