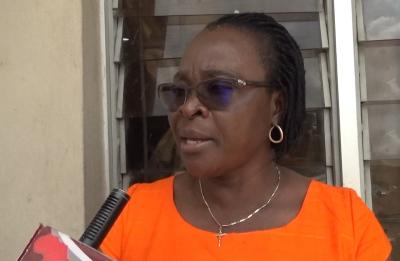 Why IAR&TAnnual Research Review is important to us -Obatolu
By:
Mon, 3 May 2021 || Nigeria,
The Executive Director of the Institute of Agricultural Research & Training (IAR&T), Prof. Veronica Obatolu, has revealed that the Annual Research Review organized by the institute is one of the check and balances put in place to ensure that the institute is making progress and operating in line with its mandates.
Obatolu revealed this in an exclusive interview with CEOAFRICA on 27 April, 2021 at the Annual Research Review and 33rd South-West Research Extension Farmers Input Linkage System (REFILS).
The Executive Director stated that the Annual Research Review is a means of assessing if the findings and innovations at IAR&T are adaptable and demand driven, adding that it is also a way of looking at areas that need improvement.
"The researchers are here to review our past work, what we have done, our findings and innovations and to check if what we have passed to extension officers to extend to farmers are demand driven or adaptable to farmers' situation.
"If it is adaptable, we are happy. If it is not, we now sit down together and see what needs to be done in order to move forward.
"The audience involve the researchers, Agricultural Development Program officers (the extension officers), and farmers. Everyone is here to tell us what we have done that is good, where we need to revisit, what we need to take back to the lab and bring back next year," she explained.
Prof (Mrs.) Olukemi Lawal, a staff of IAR&T in an interview with CEOAFRICA advised farmers to make use of irrigation facilities because of drastic climatic changes and the reduction in raining days every year.
Prof. Lawal explained that climate change is a factor that affects both livestock and crop farmers. She urged that extension workers should pass messages to farmers on how they can adapt to climate change and how they can mitigate effects of climate change.
Mr. Afolabi O.L from Osun state Agricultural Development Program (ADP), Iwo, during an interview with CEOAFRICA stated that ADP is very important in Agricultural development, because the program which is being led by extension officers to creates link between researchers and farmers.
He added that the extension officers take new developments and discoveries made by researchers to farmers for improved farming activities.
He stressed that Agriculture will provide employment for 70% of the unemployed youths in Nigeria if the government is ready to work towards it.
Osioye O. Amos, Director of Technical Services, Ogun state ADP, in his interview with CEOAFRICA disclosed that there are some challenges being faced by Ogun State ADP, despite the fact that they are making efforts towards ensuring their services are rendered with no hitch.
He added that in order for Ogun State ADP to communicate effectively and strengthen the relationship between farmers and extension officers, they have a radio and television program structured for this purpose and they are still looking at other things they can put in place for the benefit of farmers.
Ogundele Olajumoke, a 300 level student of Agricultural Extension and Communication Technology department, Federal University of Technology Akure, in a chat with CEOAFRICA said she attended the review to gain more knowledge about REFILS programs and how it was being coordinated.
The 2020/2021 IAR&T Annual Research Review and 33rd South-West Research Extension Farmers Input Linkage System (REFILS) was a success as it created a platform for scientists, researchers to showcase their research discoveries to extension officers and farmers while interacting and sharing  ideas on how they can work together in employing modern farming techniques for improved crop and livestock production.
After the 5-day Annual Research Review, it became obvious that much work still need to be done by scientists and researchers in developing modern and climate smart means of farming.
It can also be gathered that the extension officers need to fit properly into their position of carrying information to the farmers and ensuring that new innovations and discoveries are being employed by farmers for maximum yield.
Back to News