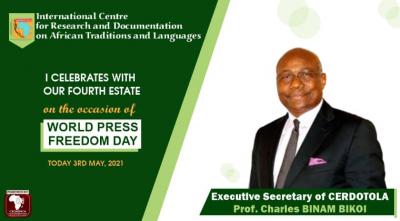 World Press Freedom Day: CERDOTOLA Executive Secretary calls for independent African press
By:
Mon, 3 May 2021 || Nigeria,
As the World observes the 28th edition of World Press Freedom Day, the Executive Secretary of the International Centre for Research and Documentation on African Languages and Traditions (CERDOTOLA), Prof Charles Binam-Bikoi has called on Africans to fight for a truly independent press throughout the continent.
He made this call on Monday, May 3, 2021 during an exclusive interview with CEOAFRICA.
Professor Binam-Bikoi said more than ever, there is now the indispensable need for the African press to be free from Western domination.
According to him, Africa does not have a voice if her press is controlled by foreign influences.
He noted that the World Press Freedom Day is one of the most significant celebrations globally.
"The time is ripe for Africa to fight for a truly independent continental press. Our press must be owned and controlled by us. The African press should be able to operate devoid of any foreign interference whatsoever.
"Anything short of this will constitute a subtle dependence on Western influences. We must remember that Africa has a major stake in World Press. This very celebration we're having today, came  as a result of a presentation made by African journalists during the 1991 UNESCO seminar held at Windhoek, Namibia.
"The media of a people is their voice to the world. The world cannot hear you if your press is not active and independent. As far as I'm concerned, Africa has no voice if she allows her press to be dominated and driven by Western influences."
The avid professor further hailed UNESCO's efforts in promoting a globally free press. He called on all member States of the United Nations to ensure that the global aspirations of press freedom are achieved. He also stressed that having a free press is key to boosting African values and identity.
"I laud the spirited commitment of UNESCO in promoting global press freedom. It is something that all member nations should ensure that is reflected in their respective territories.
"It would be a shame for you to be a member of the United Nations and still not practice freedom of press. It is a fundamental human right; the freedom of expression.
"Africa must understand that our very identity is in our press. In the face of widespread westernisation, the African press should stand as a symbol of our values and identity. We cannot compromise on this, else our identity as a continent will be at stake", he stated.
The World Press Freedom Day is an annual celebration organised by the United Nations Educational, Scientific and Cultural Organisation (UNESCO) to promote press independence globally.
The theme for this year's celebration is "Information as a public good".
Back to News