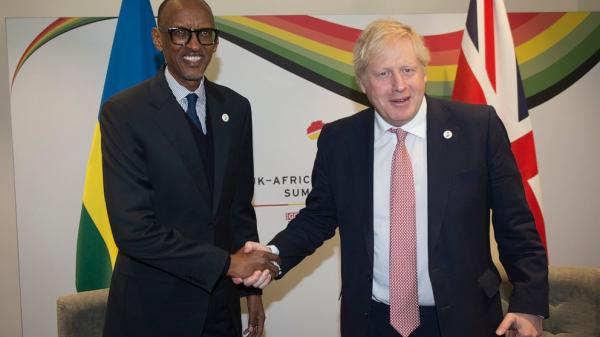 UK Prime minister, Boris Johnson 'set to announce plans to send migrants to Rwanda to be processed under secretive deal worth millions to African nation
By: Cletus Sunday Ilobanafor
Tue, 5 Apr 2022 || Rwanda,
UK Prime minister, Boris Johnson is reportedly set to announce plans to send migrants to Rwanda to be processed under a 'secretive deal worth millions' to the African nation.
A government source said the Prime Minister has been told the plans are not quite ready after he intended to announce them last week following a surge in the number of migrants crossing the Channel.
Ministers are waiting for Priti Patel's Nationality and Borders Bill, which would enable asylum seekers to be processed abroad, to make its way through the House of Lords and be given royal assent before the terms of the deal with Rwanda can be finalised, the Times reported.
The plan would see the government fly asylum seekers out to Rwanda for processing while the UK pays the African country millions of pounds.
On Monday evening, the House of Lords voted against the bill, extending the Parliamentary battle over the flagship bill.
It comes as the number of migrants to have crossed the Channel so far this year passed 4,500. In 2021, a total of 28,526 people crossed the Channel, but this year is expected to break that record.
The deal has been described as 'secretive' with ministers only allowed to refer to 'country X' during meetings.
There have been similar attempts to offshore migrants in Ghana and Albania, but these plans have fallen through, according to the report.
However, the bill has met resistance in the Commons where Tory MP David Davis has tabled an amendment to scrap the measures.
Speaking during the debate, the Bishop of Durham, the Rt Rev Paul Butler, was deeply critical of a move enabling the offshoring of asylum seekers to overseas processing centres, similar to those used by Australia.
He said: 'When people arrive on our shores seeking protection we have a responsibility to treat them as we would wish to be treated if we indeed had to flee for our lives.
'If we move them to other countries for the process of their asylum claims I very much fear a blind eye will be turned to their treatment.
'The inhumanity of this part of the Bill is my primary concern. There are however significant practical and financial concerns.'
Labour frontbencher Lord Rosser said: 'Campaigners claim it will cost less to put asylum seekers in the Ritz than run an offshoring policy.
But experience elsewhere and not least for Australia suggests that the cost of such a scheme would be considerable per person, not cost effective.'
But Home Office minister Baroness Williams of Trafford said: 'Asylum processing overseas is one part of a system-wide reform designed to break the business model of people smugglers and disincentivise unwanted behaviours
Back to News