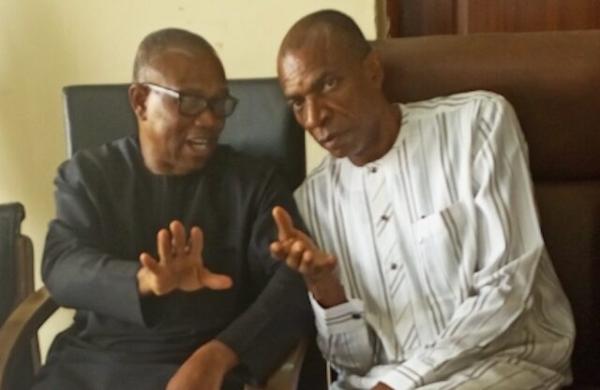 Peter Obi: The president Nigeria needs in 2023
By: News Editor
Thu, 14 Apr 2022 || Nigeria,
The 2023 presidential aspirant on the platform of the PDP, Mr Peter Obi said on Wednesday that poor leadership is responsible for the plethora of problems plaguing Nigeria.
He said this when he paid a courtesy visit on chieftains of the PDP in Benin on Wednesday.
Obi lamented what he described as an apparent floundering of the ship of state, blaming the problem on poor leadership.
He said that Nigeria needed a president with visible capacity to pilot the ship of state, noting that only men of integrity should be given a chance to serve Nigeria at the highest level in the new political dispensation expected in 2023.
The former governor of Anambra also lamented what he characterized as the huge number of people living in poverty in the country, describing the situation as worrisome.
"We have high unemployment today and the worst problem a country can have is to have young people in their productive age doing nothing, saying that "there is collapse in our health, education and security sectors.
"2023 election will be a game-changer, so we need to elect people with capacity and competence to drive our country and I know I have the capacity and competence to drive the country.''
Obi also criticised the debt profile of the country, saying that Nigeria as a country was borrowing for consumption, which should not be.
He argued that that the 2023 elections should not be about an aspirant coming from any particular geo-graphical zone in the country but someone with capacity.
"Don't vote in people who will keep sharing the future of our children because the nation is now sharing the future of our children and eventually there will be nothing left to share.
"We can't bequeath anarchy on our children but a future. We must build a better place. We must make it work, if not we will end up being refugees."
The presidential aspirant urged the delegates to change the "crisis" situation in the country by voting in competent candidate with proven track-record to drive the country.
"We must pull our children out of poverty. Do not look at what you will get today, look at the future of our children as you vote.
"Let us go out and build a better Nigerian nation."
On whether he would step down for another candidate, Obi said that such issue was not yet decided but that PDP aspirants would always work together as one family.
"We are not going to quarrel over it but pray that in the end the best person to do the work will emerge."
Explaining how he would achieve success using social and economic reforms, said that he does not believe in "100 days'' celebrations, saying that nations were never built within 100 days.
"I can assure you that we will put in place policies that will strictly be implemented and start pulling people out of poverty from year one.
"We will not borrow money for consumption but for production."
On the contentious issue of zoning, Obi said that he would stand by whatever arrangement put in place by the PDP so long as it is fair and equitable and shows love and inclusiveness for every geo-political zone
Back to News