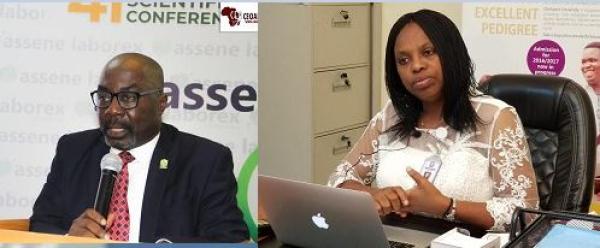 PSN President, Babalola, others decry disregard for pharmacy profession in Nigeria
By: Abara Blessing Oluchi
Thu, 22 Sep 2022 || Nigeria,
The President, Pharmaceutical Society of Nigeria, Prof. Cyril Odianose Usifoh has decried the unpleasant treatment pharmacists go through in the Federal Ministry of Health in Nigeria.
According to the don, the Federal Ministry of Health frustrates the pharmacy profession as well as other healthcare officials in the country.
This is contained in the former Dean, Faculty of Pharmaceutical Sciences, University of Benin's welcome address at the one-day public lecture organized by the Clinical Pharmacists Association of Nigeria (CPAN), today, Thursday, 22nd September, 2022.
In her keynote speech, the Vice Chancellor, Chrisland University, Prof. Chinedum Peace Babalola, explained that the profession has suffered some setback in the past and has to move forward.
According to the former Dean Faculty of Pharmaceutical Sciences, University of Ibadan, "I felt so bad when the government was setting up a Committee on Fighting Malaria, at a point, and there was no pharmacist in the committee".
She further highlighted that the siting of the Faculty of Pharmacy at the Afe Babalola University, Ado-Ekiti, was also a concern to her when she was there on a research assignment.
The African Union Nobel Laureate, who spoke on the theme of the lecture, "Pharmacists United in Action for a Healthier World: Nigeria Clinical Pharmacy Specialty Groups in Focus", stressed the need for pharmacists to be united and shun the desire for strife and unhealthy rivalry, while calling for more collaboration among health service officials.
She further raised concern over the neglect of rural communities across the country by some pharmacists, stating that they also need quality healthcare.
Prof. Azuka Opara, lamented on the nature of licence being issued to pharmacists in Nigeria yearly; according to him, "Anytime I look at the licence given to me many years ago, I weep. This is because many things on the licence, I don't do. but many things I do are not on the licence."
Prof. Usifoh however, explained that the issuance of generic licence to pharmacists in Nigeria is being reconsidered, as an effort to promote the effectiveness of the sector.
He noted that just like the West African Postgraduate College of Pharmacists, Nigerian Postgraduate College of Pharmacists is expected to be established soon, as contained in a bill being proposed in the National Assembly.
This he explained will further promote specialisation and efficiency in the profession.
Prof. Mbang Femi-Oyewo, who chaired the event, noted that there are about 15 or more specialty areas, even within the Clinical Pharmacy, that is open for practitioners to explore.
She stated that the era of confining a pharmacist in a drug dispensary box is far gone.

Back to News