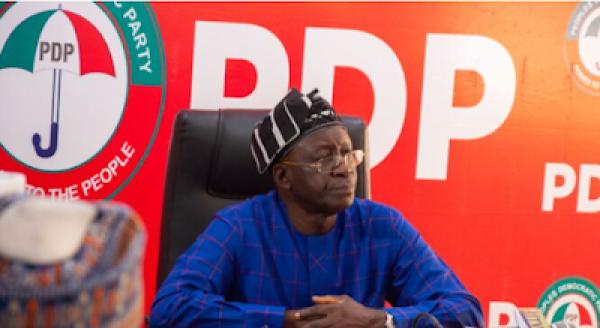 2023: Ayu lists considerations for Okowa's choice as Atiku's running mate
From: Agency Report
Thu, 12 Jan 2023 || Nigeria,
The Peoples Democratic Party (PDP), National Chairman, Iyorchia Ayu, has stated that the "calm, articulate and brilliant" attitude of the Delta State Governor, Ifeanyi Okowa was considered for his selection as the running mate for the party's presidential candidate for the 2023 general election.
He also noted that aside from the governor's disposition, the national leadership of the party has decided to "reward" Delta State with the keenly contested position after the PDP presidential primary in May 2022.
Speaking on Wednesday in Warri North Local Government Area of the State during the inauguration of the Ogheye Floating Market, Ayu accused the ruling party of taking Nigeria back by 50 years, urging the people of the State to vote out the All Progressives Congress, APC, in the forthcoming general election.
"The destruction that the APC administration has done to this nation has taken us back 50 years. And when we recognised the sterling contributions of Governor Okowa – his character as a calm, articulate and brilliant young man, we, the leadership of the party, felt he should be promoted upstairs, and therefore, he was selected with the approval of our presidential candidate, Atiku Abubakar as the next vice president of Nigeria," he said.
Ayu has been at the centre of the crisis rocking the main opposition party immediately after its presidential primary last year.
Atiku, who is a former vice president, won the primary conducted in Abuja last year with Rivers State Governor Nyesom Wike as his closest contender.
Permutations were rife in the wake of the primary that Atiku would pick Wike as his running mate, but in a twist of events, he settled for Okowa, who is considered by some stalwarts as less strong in the party compared to Wike.
Following the episode, Wike and four other PDP serving governors known as the Integrity Group or G-5 have demanded the resignation of Ayu in what they described as calls for "justice and equity" within the party.
The G-5 governors noted that it is opposed to "northern dominance" in the leadership of the party, saying Adamawa-born Atiku and Benue-born Ayu cannot be the party's presidential candidate and national chairman, respectively.
Back to News