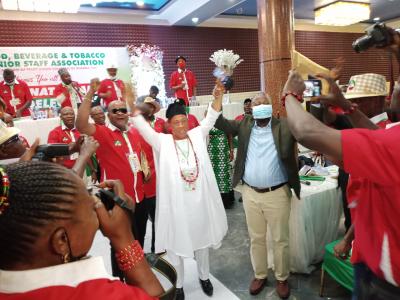 Comrade Olaleye raising the hand of newly elected President, Jimoh Oyibo
Comrade Jimoh Oyibo emerges as FOBTOB President as Olaleye promises to support new executive
By:
Sun, 30 May 2021 || Nigeria,

Sunday, 30 May 2021: Comrade Jimoh Oyibo has been elected as the new National President of the Food, Beverage and Tobacco Senior Staff Association, (FOBTOB). He was elected in a rancor free electoral process during the 14th National Delegates' Conference held in Abuja.
The president-elect  in an Exclusive Interview with CEOAFRICA promised to accord members' welfare top priority in his agenda as well as training of members and partnernering with the Trade Union Congress, (TUC), for the government to meet the demands of their employers in ensuring food security and economic growth of the conuntry. Comrade Oyibo said FOBTOB is a model for rancor free electoral process in Nigeria Unionism.
 CEOAFRICA reports that the outgoing President, of FOBTOB who is the current president of Trade Union Congress of Nigeria, Comrade Olaleye, is determined to see that the current executives succeed in their electoral promises to the members.
He also extended his hands of fellowship to the new leadership led by Comrade Jimoh Oyibo, assuring that he would continue to support the new leadership of the body to achieve the desired objectives of FOBTOB. Olaleye made this known in an Exclusive interview with CEOAFRICA correspondent.
Comrade Adebayo Aderogba, who was elected as Deputy National President in a chat with CEOAFRICA expressed confidence that the wealth of experience of Comrade Jimoh Oyinbo, the president-elect will be a great asset in moving FOBTOB to the next level.
He therefore assured members that the new executive will deliver on the electoral promises.
Comrade Iyeye Peter, who was elected as the General Secretary, stated that the new administration under Comrade Jimoh will leave no stone unturned towards members' welfare and to also continue on the template of the immediate past administration.
Comrade Bunmi Adesanya was elected as the National Treasurer of   FOBTOB.
Other elected officers were Comrade Lanre Yusuf, Vice President Western zone; Comrade Christopher Amadi, Vice President, Eastern zone; Comrade Nasiru Musa Bichi, Vice President, Northern zone; while Comrade Makinde Solomon is the Trustee for Northern zone, other trustees were Comrades Onyeaabor Nwachukwu and Obot Asuquo for both Western and Eastern zones.
Others were the immediate past President, Comrade Quadri Olaleye, Ex-officio, while other Ex-officio for Western, Eastern and Northern zones were Comrades Buhari Isiaka, Sunday Obozua and Mahdi Mohammed respectively.
FOBTOB held her 14th national delegates' conference with the theme "The role of food, beverage and tobacco industry in the promotion of sustainable economic growth and quality job creation" in Abuja.
Back to News