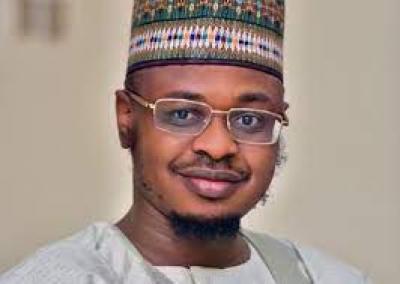 Nigerians on social media continue to call for Pantami's resignation
By:
Mon, 19 Apr 2021 || Nigeria,
The call for Nigeria's Minister of Communications and Digital Economy Dr, Isa Ali Pantami to resign from the office has continued to gather more momentum in the past few days. This resignation call was made in respect to his past religious views which were tagged extreme.
Recall that the 48-year-old Minister on Saturday disclosed that he had forsaken his past radical views and admitted that they were ordinary beliefs that were prompted by age, immaturity and limited knowledge.
Pantami, in his daily Ramadan lecture at Annor Mosque in Abuja said, "Some of the comments I made some years ago that are generating controversies now were based on my understanding of religious issues at the time, and I have changed several positions taken in the past based on new evidence and maturity,"
"I was young when I made some of the comments; I was in the university. Some of the comments were made when I was a teenager. I started preaching when I was 13, many scholars and individuals did not understand some of international events and therefore took some positions based on their understanding, some have come to change their positions later."
The Minister claimed that he had been preaching against the extremist view even before his appointment into office.
"For 15 years, I have moved around the country while educating people about the dangers of terrorism," Pantami said on Saturday.
"I have travelled to Katsina, Gombe, Borno, Kano states and Difa in Niger Republic to preach against terrorism, he continued.
"I have engaged those with Boko Haram ideologies in different places. I have been writing pamphlets in Hausa, English and Arabic. I have managed to bring back several young persons who have derailed from the right path."
The claim which did not go down with Nigerians has gotten some criticism on social media.
Some Nigerians on twitter insisted that the minister should resign, stating that his acclaimed views had nothing to do with age and immaturity.
"This is not about age. I was once a teenager too – and I never supported killing people of different religions or beliefs," a Nigerian lawyer and activist Ayo Sogunro tweeted on Sunday morning.
Sogunro said, "If Pantami truly wants to make up for his past, he should resign and continue the work of engaging and de-radicalizing young jihadist, not handle national affairs."
Another lawyer and human rights activist Festus Ogun said "If Pantami refuses to resign, we'll force him out of office by mass action. It is the patriotic thing to do."
Nigerians will recall that this is not the first time Patami has been subjected to public criticism since his appointment into office.
In May 2020, Patami had a disagreement with the Chairman of Nigerians in Diaspora Commission (NiDCOM) Abike Dabiri-Erewa. Abike accused the Minister of misogynistic attitudes, and chided him for disrespecting her because she is a woman.
The conflict was made public after NiDCOM shared a video on its official Twitter handle where the Minister was blamed for the eviction of his staff from the office space at the Nigerian Communication Commission (NCC) building in Abuja.
Pantami denied this in a tweet via his official twitter handle, claiming the report was cooked up by the media to tarnish his reputation. He later deleted the tweet.
Last week, the embattled Pantami refuted a report that he was placed on the U.S. watch-list over allegations of global terrorism and allegiance to al-Qaeda.
Nigerians await what the response of the government will be. At the moment, there has been no official statement made concerning these weighty allegations.
Back to News