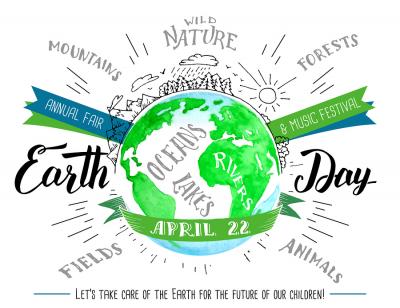 22nd April: UN celebrates International Mother Earth Day
By:
Thu, 22 Apr 2021 || Nigeria,
Life as we know it till date, is only possible in our earth, the only inhabited planet in the whole universe. It has become extremely critical to maintain the natural assets of the earth in order to ensure the continuity of life in our damaged planet.
In the name of rampant modernization, profiteering and uncontrolled industrialization, the most intelligent creature of God, mankind, is giving up its humanity. Mankind has forgotten to take care of the planet and its resources that gave it life. Humans are exploiting and misusing the natural resources in the air, land and water in a disdainful and crude manner.
Hence, April 22nd has been chosen by the United Nations as World Earth Day, to make the human race aware of the importance of their home, their earth, and their only planet in the whole universe. The setting aside of 22nd of April is also to stress the fact that there is no alternative planet where humans can relocate to in the whole galaxy, which can give them life, as "Mother Earth" does.
The UN website explains that the idea of "Mother Earth" is used because it "reflects the interdependence that exists among human beings, other living species and the planet we all inhabit".
The first Earth Day took place in 1970. Outraged by oil spills, smog and polluted rivers, 20 million people took to the streets of USA protesting what they recognized as an environmental crisis. It was the planet's largest civic event at the time and compelled governments to take concrete actions, including passing environmental laws and establishing environmental agencies.
A number of groundbreaking acts followed this movement, such as the Clean Water Act, Clean Air Act and Endangered Species Act. In addition to these phenomenal outcomes, the event demonstrated just how much can be achieved when people come together and demand action.
Climate and human activities affect nature as well as disrupt biodiversity. Activities such as deforestation, land-use change, intensified agriculture and livestock production or the growing illegal wildlife trade, can increase contact and the transmission of infectious zoonotic diseases like COVID-19 from animals to humans.
According to the UN, "About seventy-five percent of the infectious diseases that emerges in humans come from animals." This shows the close relationships between human, animal and environmental health.
More than a million animal and plant species are in danger of extinction through loss of habitat, mainly due to human activities. This, in turn, is leading to outbreaks of deadly diseases that spread like wildfire from wildlife to humans.
Thus, Mother Earth is clearly urging a call to action. Nature is suffering. Oceans are filling with plastic and turning more acidic. The death of rivers due to the overflow of industrial toxic materials, extreme heat/global warming as a result of the Ozone layer depletion, wildfires and floods, as well as terrible storm have affected millions of people. 
Now we face COVID-19, a worldwide health pandemic linked to the health of our ecosystem. It's therefore not surprising to see the UN Secretary-General António Guterres pleading with humans all over the world that "We must act decisively to protect our planet from both the corona virus and the existential threat of climate disruption."
Earth Day now a global event involving more than 190 countries worldwide brings together people and environmental organisations with the collective desire to take better care of our planet.
It is therefore a special celebration that nudges us to remember that planet Earth is our home and we have to live in harmony with nature. It also stresses that we all are responsible for protecting our planet and caring for all the species that live therein.
This year activities include live-streamed discussions across global time zones, events and actions involving front-line community leaders. It will also feature Earth Day blessings from religious leaders around the world, webinar messages from youth climate activists and conversations with notable World figures on current and future environmental challenges and how to mitigate it?
Climate change is one of the largest threats to sustainable development. The unsustainable actions of humanity have direct implications on the future condition of the planet. It is in these contexts that the criticality of World Earth Day assumes alarming significance.
We just cannot afford to sit in a corner and witness the pillage and destruction taking place in our planet in the name of development, modernization, rampant industrialization and advancement of humanity. Hence, just like on the first Earth Day 50 years ago, it is time to demonstrate solidarity and take action at ensuring that our relationship with nature is one that allows for the continuity of life.
Back to News