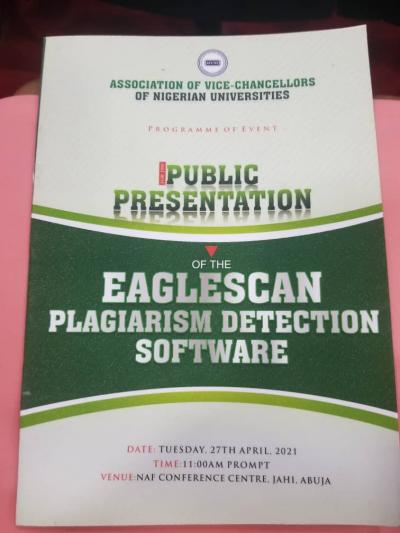 Osinbajo, Adamu, Babalola commends AVCNU on EagleScan Plagiarism Software creation
By:
Tue, 27 Apr 2021 || Nigeria,
Nigeria Vice President, Prof. Yemi Osinbajo; the Minister of Education, Malam Adamu Adamu, and the Vice-Chancellor of Chrisland University, Prof. Chinedum Peace Babalola, have applauded Association of Vice Chancellors of Nigerian Universities (AVCNU) for the creation of plagiarism Software.
They gave the commendation on Tuesday, April 27, 2021 during the lunching of EagleScan Plagiarism Software Creation at the Nigeria Air-force (NAF) Conference Center, Jabi, Abuja which was monitored by CEOAFRICA.
The launching of the Software was developed by team of IT experts from five Nigerian Universities: Benue State University, Delta State University, University of Ilorin, Covenant University, Al Hikmah University,
 The Vice President who was represented by the Deputy Executive Secretary of National University Commission Dr. Suleima disclosed that the government remains fully committed to support all initiatives that will enhance education sector in the country.
The Minister of Education, Malam Adamu Adamu who was ably represented by Muhammed Hajia, said that plagiarism detection software will prevent plagiarism in Universities; it will also help lecturers and students to get the quality of education expected in Nigerian education system. She added that it is a good development in the education system because of its beautiful features.
Quoting the Executive Secretary of National University Commission, Prof. Abubakar Rasheed who was represented by his Deputy, Dr. Suleiman Raman-Yusuf, "Nigeria University Commission (NUC) is very proud to be associated with this development, it is an indication of positive continuity, completing a project started by the past administration.
"For so long, issue of plagiarism and copyright infringement has rubbed off in our universities. Having a software of this kind is a good start. We need to institutionalize polices like this that abhors plagiarism and various forms of plagiarism must be defined, students need to be enlightened about what constitute plagiarism."
He added that, "NUC will also support this development and the effective use of the software."
 Prof. Peace Chinedum Babalola in her closing remarks applauded the Association of Vice-Chancellors of Nigerian Universities (AVCNU) for the initiative, stating that it would curb plagiarism and influence the overall quality of education across Nigerian Universities positively.
Babalola during her vote of thanks stated that the best thing to do is to ensure the immediate use of the Software in various Universities across the country, revealing that Chrisland University is currently using the software.
"The best way to thank ourselves is to ensure the immediate use of the Software. I use it in my University, research projects are returned to students if it is not being verified with the software. It must be made compulsory in all Nigerian Universities."She said.
Professor Shehu Galadanchi, head of the NUC governing council gave a detailed description of the software, he explained its features and functions in a review which Babalola called a SWOT analysis.
"EagleScan provides a tool that enables users to search for the existence of a title in the local and global repositories; provides a grammar checker that highlights possible errors in manuscripts; its Peer Review tool allows users to create academic forums for review of documents; it provides a channel for document language translation, the document translation tool supports over forty languages." He explained.
Present at the occasion are:, Hon. Minister of Science and Technology, Dr. Christopher Ogbonnaya; Executive Secretary of Tetfund, Professor Suleiman Bogoro; JAMB Registrar, Prof. Oloyede; Director of AVCNU, Prof. Olugbemiro;  Prof. Chancellors, Vice Chancellor of Chrisland University, Members of  AVCNU, members of staff of AVCNU, ICT Directors in Universities and agencies, Representatives of National Broadcasting Commission (NBC), and Vice Chairman of Senate committee of Universities, Senator Sandy Onor who is the Chairman of the Occasion.
Back to News