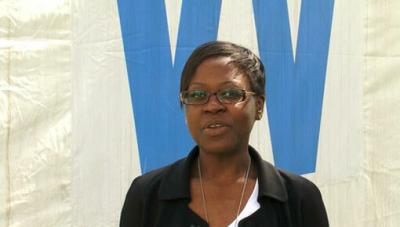 UN WFP Deputy Director calls on Nigerian students to volunteer with organizations that promote food security
By:
Wed, 28 Apr 2021 || Nigeria,
The Deputy Director of the United Nations (UN) World Food Program (WFP), Mrs. Adeyinka Badejo-Sanogo, has called on Nigerian students to volunteer with organizations that promote food security and sustainability in the world.
Mrs. Badejo made the call on Wednesday, during a day symposium organized by Chrisland University, which was monitored by CEOAFRICA.
The symposium was structured to show the significance of different policies put in place by the United Nations and how students can fit into various positions where they can contribute towards the 2030 UN hunger eradication mandate.
Badejo, while speaking on the topic: "The link between hunger and conflict", stated that the WFP which began in 1961 is aimed at ending hunger and addressing food crises caused by emergencies which could be natural or influenced by humans.
"There are various emergencies that could lead to food scarcity, it could be war, natural disasters, diseases, pandemic such as COVID-19 and more. WFP was established to find solutions to the effects of these challenges and eradicate Hunger in the world come 2030. As a student, you cancontribute to this goal in your corner.
"Provision of food is not enough, it can only prevent short term hunger. To prevent long term hunger and food scarcity, you can support or volunteer with NGOs that promote food security policies;you can contribute to school feeding programmes andpolicies that assist farmers." She stated.
In her remarks, Prof. Chinedum Peace Babalola, the Vice-Chancellor of Chrisland University and Chief Host of the symposium, disclosed that the symposium was organized to encourage the students to be part of the great vision.
She urged the students to go out, think big and find ways to volunteer with the UN and other organizations that would create the platform for them (the students) to contribute positively to the society.
"There are many opportunities out there. Think about something good for yourself. We want you to become an international figure, and to achieve this you must be determined. You should look for ways to work with the UN or have your internship with them." She noted.
The Vice-Chancellor during her speech welcomed the students to the second semester, adding that various facilities like boreholes for regular water supply and resources for regular electricity are being put in place for the convenience of the students by the University management.
She said in her remark that the university under her leadership will leave no stone unturned in ensuring that Chrisland becomes one of the leading universities in Nigeria.
The symposium had in attendance the students, staff and members of the university community.
Back to News