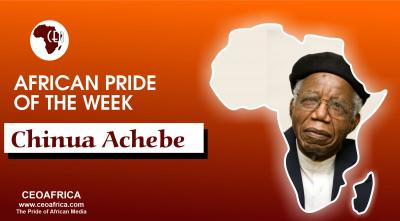 African Pride: Celebrating the life and time of Chinua Achebe
By:
Mon, 3 May 2021 || Nigeria,
"If you don't like someone's story, write your own." These were the words of a famous writer who hailed from Ogidi, South-Eastern Nigeria.
Can you ever speak of African literature without mentioning this man's name? A man, who in his time changed the narrative for what is known as African literature. There is no doubt that his first novel, "Things Fall Apart" is his best work. Not only that, it is the most extensively read book in modern African literature. Chinua Achebe was a man regarded as the father of modern African writing.  Today, CEOAFRICA takes a look at his life.
Albert Chinụalụmọgụ Achebe was a Nigerian poet, professor, and critic. He was born on 16th November, 1930 in Ogidi, Anambra State, Nigeria. He attended Government College Umuahia where he was among the best performing students. This earned him a scholarship to study medicine at University College (now the University of Ibadan). While at the University, he observed with great displeasure that what was been portrayed of Africa in books and other literature was a far cry from the reality on ground.
Achebe was particularly offended by the book "Heart of Darkness" by Joseph Conrad. As far as he was concerned, the image of Africa was at stake. The demeaning and thoroughly racist views of Africa presented in the book spurred him to drop Medicine and begin studying English Literature. His goal was to become a writer; telling African stories through the lenses of an African. Even though this meant he no longer had the government scholarship, he carried on with his ambitions.  With support from his family, he was able to scale through.
He became fascinated with world religions and traditional African cultures, and began writing stories as a University student. After graduation, he worked for the Nigerian Broadcasting Service (NBS) and later moved to Lagos.
His novel "Things Fall Apart" published in the late 1950s was his breakout into the global literary world. He went on to publish other novels like "No Longer at Ease" (1960), "Arrow of God" (1964), "A Man of the People" (1966), and "Anthills of the Savannah" (1987).
In 1975, his lecture "An Image of Africa: Racism in Conrad's Heart of Darkness" highlighted a criticism of Joseph Conrad as "a thoroughgoing racist". It was later published in 'The Massachusetts Review' in the face of controversies.
The secessionist civil war that broke out in 1967 when the Igbo dominated South-East region broke away from Nigeria to become the republic of Biafra saw Achebe become a supporter of Biafran independence who also acted as ambassador for the people of the new nation. The impact of the civil war was devastating. Hunger, starvation, and violence were the after effects of this bloody war. It left countless people destitute and many homeless. Moved by compassion for his people, Achebe was compelled to appeal for help from the international community.
Achebe, a titled Igbo chief himself, focused his novels on the traditions of Igbo society, the effect of Christian influences, and the clash of Western and traditional African values during and after the colonial era.
Chinua Achebe's style relies heavily on the Igbo oral tradition, and combines straightforward narration with representations of folk stories, proverbs, and oratory. He also published a large number of short stories, children's books, and essay collections.
Achebe had eighteen-year tenure at Bard College New York, as the Charles P. Stevenson Professor of Languages and Literature. From 2009 until his death, he served as David and Marianna Fisher University Professor and Professor of African Studies at Brown University, USA.
Chinua Achebe has received several awards including; Peace Prize of the German Book Trade (2002), International Booker Prize (2007), St Louis Literary Award (1999), and The Dorothy and William Gish Prize (2010).
He has no doubt been a major source of inspiration to the young generation of African writers, especially those leaning towards the fiction world. Names like Chimamanda Ngozi Adichie, Ben Okri, and Chris Abani are among the long list of today's most influential African writers who have been most impacted by the life and work of this literary giant.
Back to News