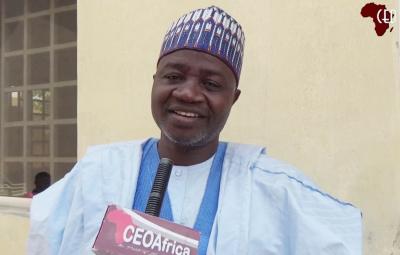 Conflicting policies behind failing agricultural reform in Nigeria - Prof Sharubutu
By:
Fri, 30 Apr 2021 || Nigeria,
The Executive Secretary, Agricultural Research Council of Nigeria (ARCN), Professor Garba Hamidu Sharubutu, has blamed the failing agricultural reform in Nigeria on conflicting policies of successive administrations.
He said this on Monday, 26th April at the opening ceremony of the Annual Research Review at the Institute of Agricultural Research and Training, Moor Plantation, Ibadan.
In an exclusive interview with CEOAFRICA, the former President of the Nigerian Veterinary Medical Association asserted that failure to sustain meaningful agricultural policies of past administrations  is the reason behind the seeming lack of prospect in agriculture. According to him, extension is the only way out.
"You see, this has to do with conflicting government policies. If you look at Nigeria as a nation, there are several agricultural policies that we have actually developed.
"But any regime that comes up wants to project a different policy altogether. I want to say that for the first time in this country, we have a regime that is trying to maintain the agricultural policies it got from the other regime, and that is the more reason you are seeing a reinvigoration in Agricultural sector .
"Extension is the key. What do we mean by extension? Getting information from where it is generated to where it will be utilised. That is the link that is actually the problem. For you to get efficiency in extension, number one, the innovation must be there from the agricultural research center, there must be conveyors of these ideas from the research institute to the target. And this is where the missing link is.
"Initially, Nigeria felt that they will try different systems of extension. But what seems to be working is the strengthening of the various colleges of agriculture because they produce middle level manpower. These middle level manpower need to be further trained in such a way that they can reach the farmers. Because if you bring raw information as it is from the research institute, the farmer will not be able to understand it. So its the extension worker that will be able to interpret that, and understand the sociological setup of the rural population that will take this information to them for them to be able to utilise it. Now this is lacking."
The ARCN boss further named the proliferation of small trades as a factor affecting the thriving of agriculture.
"There are many competitive trades competing with agriculture. the researchers are there; the farmers want to be there; but where you find a trade that will quickly return money to you, you'll quickly go in to it.
"Some people prefer to sell recharge cards or drive keke-napep, or sell petrol by the roadside. Now the current one is they prefer to go for POS business, because there is money there; not minding the far reaching implication of neglecting agriculture.
"What the government is doing now in the process of diversifying agriculture is to fragment agriculture into different components. For example, who are those that are into fertilizer and fertilizer application, tractor hiring, weeding, harvesting, bagging, and reprocessing? These are all separate components. So this is what we are planning to do in such a way that every individual now when he goes out in a day, will definitely come back with something".
He further stressed that breaking agriculture into several components will be of great importance to farmers.
"If you are good in operating weeding machine, you can quickly go out and apply what you have on the farm and come back with your own money.
"Even the owner of the farm now has another special thing he's doing. So by the time we make the returns as fast as possible, you'll find out that everyone will want to go into agriculture. But the situation where we are practicing agriculture as one and all, that means you're the one that owns the land and the farm, the seeds, and everything, you'll find out that you have to wait for one year before you'll have your return. In between, what do you eat, what do you pay school fees with?
"So what the government is doing now is to make agriculture a venture to engage more than one person in a production circle", he said.
Back to News