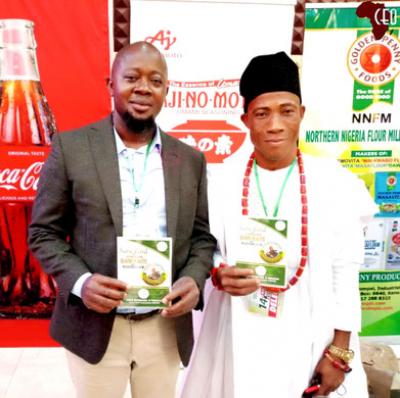 FOBTOB holds 14th National Delegates' Conference (Photos)
By:
Mon, 31 May 2021 || Nigeria,
Monday- 31 May, 2021: The Food, Beverage and Tobacco Senior Staff Association, (FOBTOB), on Saturday held their 14th national delegates' conference.
The conference had six millionaires emerged  as the Comrade Quadri Olaleye's leadership of FOBTOB gave N1m each in bank draft to six best graduates from Nigerian universities for excellence.
The six millionaires were first class graduates from various universities were awarded for outstanding academic performance and exceptional display of talent and skills.
Of all the companies that are members of the Food, Beverage and Tobacco Senior Staff Association, (FOBTOB) that participated in the just concluded 14th National Delegates Conference held at Chida event center, Utako District in the Federal Capital Territory, Abuja, the Nigerian Bottling Company Limited, (NBC) stood out.
The NBC painted the venue red with her auspicious presence throughout the conference which produced the new leadership of the highly respected body.
The Managing Director of the company, Mr. Mathieu Seguin, who also doubled as the Chairman of the occasion during the conference performed the role creditably as he was a chairman in charge
The theme of the conference is "The role of food, beverage and tobacco industry in the promotion of sustainable economic growth and quality job creation."
The event also witnessed   a rancor free electoral process  which during the 14th National Delegates' Conference held in Abuja  which has Comrade Jimoh Oyibo  been elected as the new National President , Comrade Adebayo Aderogba elected as Deputy National President , Comrade Iyeye Peter elected as the General Secretary ,  Comrade Bunmi Adesanya  elected as the National Treasurer , 
Other elected officers were Comrade Lanre Yusuf, Vice President Western zone; Comrade Christopher Amadi, Vice President, Eastern zone; Comrade Nasiru Musa Bichi, Vice President, Northern zone; while Comrade Makinde Solomon is the Trustee for Northern zone, other trustees were Comrades Onyeaabor Nwachukwu and Obot Asuquo for both Western and Eastern zones.
Others were the immediate past President, Comrade Quadri Olaleye, Ex-officio, while other Ex-officio for Western, Eastern and Northern zones were Comrades Buhari Isiaka, Sunday Obozua and Mahdi Mohammed respectively of  Food, Beverage and Tobacco Senior Staff Association, (FOBTOB)
In short, there is no one that attended the 14th National Delegates' Conference of FOBTOB that would not notice the 'heavy' and laudable presence of the Nigerian Bottling Company.
CEOAFRICA congratulates NBC for been a good participants at the conference and wishes that all other member companies of FOBTOB would borrow a leave and do like the Nigerian Bottling Company in the nearest future when FOBTOB would be gathering for another delegates' conference.
See photos below:
Back to News