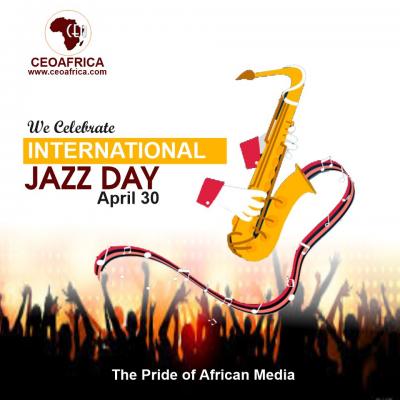 CEOAFRICA celebrates International Jazz Day
By:
Fri, 30 Apr 2021 || Nigeria,
CEOAFRICA has joined the world to celebrate the International Jazz Day today 30th April 2021.
The United Nations Educational, Scientific and Cultural Organization (UNESCO) in 2011 declared every 30th of April as an International Day of Jazz in order to highlight and celebrate its diplomatic role of uniting people in all corners of the globe.
International Jazz Day brings together countries and communities around the world each year to celebrate jazz and the role that the genre of music plays in fostering dialogue, fighting discrimination, and promoting human dignity.
This celebration is intended to raise awareness of the virtues of jazz as an educational tool, and a force for empathy, dialogue, and enhanced cooperation among people.
UNESCO proclaimed this day, April 30, as international jazz day because it believes in the power of Jazz as a force for peace, dialogue, and mutual understanding.
Jazz is a style of music that began in the early 20th Century, primarily with the African-American community. Many governments, civil society organizations, educational institutions, and private citizens are currently engaged in the promotion of jazz music and, will embrace the opportunity to foster greater appreciation not only for the music but also for the contribution it can make to building more inclusive societies.
The idea of the celebration of Jazz Day came from jazz pianist Herbie Hancock, UNESCO Goodwill Ambassador.
The today's celebration marked the 10th anniversary concert, and it is celebrated by more than 200 countries every year.
Events, workshops, concerts, and jam sessions are organized in many countries, in addition to conferences and community outreach in honour of this day event.
Back to News